Moving to Rocklin – EVERYTHING You Need To Know
Would you take a job without knowing anything about the position or company you'll be working in? Probably not. Just as you wouldn't blindly accept a job offer, moving to a new city or state without knowing some relevant information can cause some issues down the line. As Rocklin movers, we have a good grasp of what you'll need to know before relocating to a town like Rocklin, CA.
Picture moving into a home but finding out that you must travel an hour to get to work. Or choosing a house that's inexpensive, but the area is known for high crime or poor schools. Many new homebuyers and renters make this mistake. They choose a home based on affordability or location but don't take the extra steps to research what life in that area would be like.
Can you afford to live in a neighborhood? Which neighborhoods are the safest? What is there to do during your down time? Is it the ideal environment for walking or will you need a car for transportation? What types of job opportunities are available in Rocklin? All very valid questions, all of which we have gathered some basic answers for you. Look at our moving guide for Rocklin, CA and see all the reasons you might want to make this city your new home.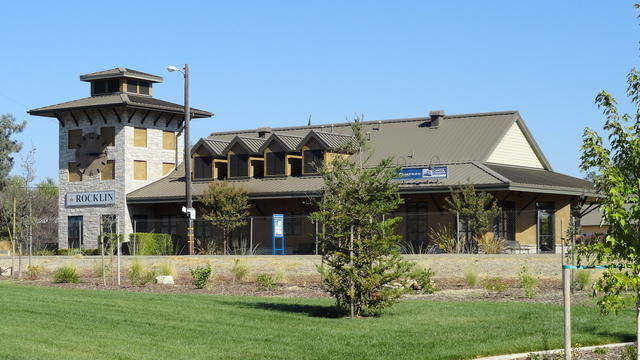 Things to Know
In 2008, Family Circle Magazine included it in its list of 10 best towns for US families. Truly, Rocklin, California has it all. Affordably priced homes, gorgeous scenery, great schools, good food, great entertainment, low crime, and things to do. Here are some facts on Rocklin, CA you might want to know:
It's 19.87 square miles.
It has a population of more than 50,000 people.
The median age is 35.
Median household income is more than $80,000.
Real estate median value is $90,000.
It's located 80 miles of San Francisco
It has 19 schools including 3 pre-schools, 10 elementary schools, 2 middle schools, 3 high schools and 1 university.
That's not all there is to learn about the budding town of Rocklin, CA. We've listed a bunch of other sources for you to check out:
---
Local Utilities
You can check the Rocklin, CA official site for contact information on service providers in the area. Reach out to them to have your services set up ahead of your moving date. Here are the most common service providers you'll need:
Both gas and electric services are provided by Pacific Gas and Electric or PG&E.
Water services are operated by Placer County Water Agency.
Sewer services are provided by South Placer Municipal Utility District.
Garbage pickup is done by Recology Auburn Placer.
For telephone, the internet, and cable, there are multiple service providers that serve the area. However, some of the most commonly used are Consolidated Communications, Wave Broadband, and AT&T.
Useful Phone Numbers & Websites in Rocklin
Once you've moved to Rocklin, CA, it's smart to familiarize yourself with some important phone numbers. To save you some time, we've come up with a few contacts we think you'll need in the weeks after moving into your new home.
DMV – you'll need to update your address and registration – 1-800-777-0133
Animal licenses – the city of Rocklin requires you to license your pets after relocating. – 1-214-821-3100
Rocklin Unified School District – need to register your kids for school? – 1-916-624-2428
Post Office – need to mail something or ask a question about your mailman? – 1-916-624-5875
City Clerk's Office – register to vote – 1-916-625-5588
Check out the resources below for access to essential information in Rocklin:
Cost of Living
Can you afford to live in Rocklin, CA? Believe it or not, many people don't consider the cost of living in a town until they've already moved. If the town you've chosen to move to is affordable for you, then obviously, you won't have any issues. However, if it happens to be more expensive, you can find yourself struggling financially to survive early on.
Here are some figures to give you an idea on the cost of living averages in Rocklin, CA:
According to Areavibes.com, Rocklin has a cost of living index of 130. This is 30 points higher than the national average, but 7 points more affordable than other California cities.
The average cost of childcare in Rocklin is $650 per month (according to numbeo.com).
The average monthly rent in Rocklin ranges from $880 to $2225.
How's The Weather?
If you're looking to move somewhere sunny and warm, then Rocklin, CA might be the location you're looking for.
Temperatures in Rocklin range from 44 degrees to 80 degrees throughout the year.
The hottest month of the year is July where temperatures can reach an average of 80 degrees.
The coolest month is January and the average temperature is about 44 degrees.
Rocklin's air quality and pollution percentages are higher than the national average.
On average, there are 255 days of sunshine in Rocklin.
Rocklin gets about 23 inches of rainfall every year.
You can find learn more about the great weather in Rocklin by clicking through the links below:
How's The Food?
From pet-friendly restaurants to famed Italian and Mexican cuisine, Rocklin, CA has great places to eat. It's also ideally situated near Sacramento, providing quick access to other great places to get your grub on. Here are a few interesting places to eat in the Rocklin area:
Boneshaker Community Brewery – Ever want to grab a bite to eat with your dog? Well, at Boneshaker, you can bring Fido along for dinner. Serving dishes made from scratch and craft beer, you and your furry friend can dine indoors or sit outside on the patio and take in the sights.
Ruth's Chris Steakhouse – If you're looking for some great steak and a stiff drink, head on over to neighboring community Roseville. While there, grab a bite to eat at Ruth's Chris Steakhouse.
There are a lot more restaurants you can enjoy in the Rocklin, CA area. Just click on some of the links listed:
What Are The Locals Like?
There are approximately 60,000 people living in Rocklin, CA. What are they like? Here's a glimpse:
The median age in Rocklin is 36.
The population in Rocklin is White (75%), Black/African American (1.5%), American Indian/Alaskan Native (0.7%), Asian (7.2%), Two or more races (5%).
Most common countries of origin are Mexico, Philippines, and Korea.
The most common non-English languages spoken in Rocklin include Spanish, Tagalog, and Korean.
A large percentage of Rocklin residents have served in Vietnam.
As you can see, the residents of Rocklin are a diverse bunch. You can learn more about the people who make up your community by viewing some of the demographics below:
Transportation
How does a person get around in Rocklin? The city offers multiple means of transportation for its citizens including bike routes, trains, and buses. Also, it's located close to an airport for those who need to catch a plane out of town. Here are some of the specifics on transportation in Rocklin:
Placer County Transit Agency provides bus services to various stops in Rocklin. The routes take commuters to and from Sacramento.
The Rocklin Multimodal Train Station is where those traveling by train can hitch a ride. The Amtrak Capitol Corridor will take riders both eastbound and westbound from Rocklin to Sacramento and the San Francisco Bay area.
The average commute time in Rocklin by car is approximately 25 minutes which is higher than the national average.
Whether you choose to walk, bike, catch a train, or drive your car every day, here's some more information you'll find interesting for getting around Rocklin.
Colleges & Education
The city of Rocklin takes the education and advancement of their students very seriously. Dedicated to providing a cohesive atmosphere for their children to learn in, the Rocklin Unified School District has been able to ensure each student is provided with the tools, experiences, and learning environment to become outstanding citizens in the community. The school district comprises 17 schools. There are 11 elementary schools, two middle schools, two comprehensive high schools, one continuation high school, and one independent charter school.
The city also has two colleges within its limits including Sierra College and William Jessup University. With approximately 95% of the city's population possessing a high school diploma or higher, you can be sure of how seriously they take education in this town.
Best Places to Live
You love the idea of moving to Rocklin, but which neighborhood is best suited for you and your family? Do you need a home that is closer to the best schools? Are you interested in finding a property that will increase in value exponentially over the next few years? Would you prefer a property that is more affordable, but further away from attractions? There are several neighborhoods in Rocklin, each appealing to the distinctly different needs of their diverse community. The top three Rocklin neighborhoods to live in include:
Sunset Heights
Whitney Oaks
Clover Valley Woods
If you need the breakdown of which neighborhoods are rated the safest, most expensive, or most affordable, check out these links below:
Local Job Market
Unless you're relocating for work, finding a job in Rocklin is going to be one of your top priorities. You'll be pleased to know that there are a lot of employers right in Rocklin that hire employees regularly. Some of the most prevalent industries include education, technology, and retail. The average household income is $80,000 which isn't too shabby. Some of the most popular employers in the Rocklin area include:
Oracle, America Inc.
Rocklin Unified School District
UPS
Sierra College
Target
Here's more information on some of the best employers to work for in Rocklin:
Family Fun
When choosing a location to move to, you want to opt for a city that has a lot of entertainment – especially when you have children. You'll want to keep them occupied during the weekend and more importantly, help them get acclimated with the new place they now call home. Exactly what is there to do for fun with your family? Rocklin has a lot of entertainment to offer, including some of the options we have listed below:
Strikes Unlimited – a family fun center with bowling alleys
Golfland Sunsplash – golf, laser tag, bumper cars, and more
Laser Craze – an awesome laser tag course
The fun doesn't stop there. You and your family can have tons of fun right in your own city. We've gathered links listing over 300 activities you can do as soon as you're settled in.
Parks and Landmarks
Rocklin has more than 30 parks and tons of historical sites that are worth visiting once you've settled into your new place. Whether you want to just walk around and take in the sights, take the family on a tour of the city, or participate in outdoor activities, there's something for everyone in Rocklin.
Top Parks in Rocklin, CA
Johnson Springview Park
Kathy Lund Park
Margaret Azevedo Park
Top Historical Landmarks in Rocklin, CA
Rocklin History Museum
Saint Mary's Chapel
Whitney Mansion
Best Backdrops Rocklin, CA
Coyote Pond
Telegraph Hill
Copps Quarry
There's a lot more to see and learn about Rocklin. Review the links below for more parks and landmarks.
Nightlife
Rocklin has a few bars and local lounges that you can frequent after hours. However, if you're looking for a bit more action, you'll need to travel outside of Rocklin to other cities in Placer County. Here are a few top-rated spots to check out when you're looking to hang with your friends or meet new ones:
Coach's Classic Bar & Grill
Black Cat Lounge
Blacktop Comedy
Sully's Bar & Grill
Craft Beer Vault
Since it's not far from Sacramento, there is more fun to be had just a few miles away. You can learn more about Rocklin nightlife by reading some of the links provided here:
Things to Do
The Placer County area has many attractions for families, seniors, children, and young adults to enjoy. Whether you're looking for something more budget friendly like a picnic at one of Rocklin's beautiful parks or you'd like to take a tour of a winery or go shopping, you'll find a lot of interesting things in the city of Rocklin and surrounding suburbs. Some of the most popular places to visit in Rocklin CA include:
Rocklin Fine Art – view art exhibits, support local artists in art shows, and more
Out of Bounds Brewery – indulge in some great beer
Hot Chili & Cool Cars – an annual classic car show
There is always something going on in Rocklin and neighboring Placer County cities to partake in. You can get the low-down on upcoming events and popular things to do in Rocklin by clicking on the links shared below:
Additional Reading
Although cost of living in the area is a bit higher, Rocklin, California is a great Sacramento suburb to live in. The Rocklin Unified School District has some of the highest-rated schools in the state. What's more, it's a college town which is great for parents of high schoolers. There are plenty of things to do if not in the city then in neighboring communities, and there are a ton of job opportunities that you can take advantage of. What's not to love about Rocklin?
Auburn Moving & Storage moving experts compiled a bit more information for you on what life might be like in Rocklin, CA. Continue reading the links below:
Closing
Boy! We know that was a lot of information in a really short time, but we're glad you got through it all. Now you're ready to settle into your new neighborhood with just a bit more insight on how life will be. Please pass this on to anyone who may be moving to the Placer County area or is in need of a moving company in Rocklin, CA.