Moving Services in Granite Bay, CA
Location:
Auburn Moving & Storage
10000 Hillview Rd
Newcastle, CA 95658

(530) 823-8685
Hours:
M-F: 8am – 5pm
Sat: 8am – 12pm
Sun: Closed
Why Our Movers?
Competitive Rates
Top-Rated Movers
Years of Proven Experience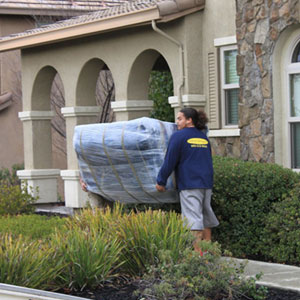 Granite Bay, CA Moving Company You Can Rely On
Whether you're moving into a home in the area or looking to move your business locally, you want to choose the most reliable and professional moving company in Granite Bay, CA for the job. Auburn Moving & Storage offers excellent services for home and business owners alike, using years of experience in the industry to provide fast, efficient and safe moving solutions.
Table of Contents:
Granite Bay is located in Placer County, California, where it lines the westward shore of Folsom Lake, just east of Roseville. The area is a residential suburb of Sacramento, named for the prehistoric and fossil-rich granite that underlays the entire geographical area.
The majority of Granite Bay residents commute to nearby economic and industrial centers like Sacramento and Roseville on a daily basis, making is an attractive location for residential moves. Its location next to Folsom Lake also gives it an appeal to families who wish to enjoy bayside home living.
Contact Us For The Best Granite Bay Moving Rates
Moving to Granite Bay doesn't have to be a stressful experience. In fact, it's a very affordable one for most residents and commuters in Sacramento, and with rates like ours it's truly within everyone's reach. As one of the best rated moving companies in Granite Bay, CA, we actually help our clients save money.
The key to saving money when moving isn't necessarily by choosing the one that offers the lowest hourly rate. The key is choosing the company that saves you the most time. The old adage, "time is money" applies here beautifully, because every hour you spend packing your own belongings in preparation for your move is an hour you could spend being more productive. Our expert movers can finish the job faster and more efficiently than you can on your own, so call us to get a quote on your move.
Hire Us For Residential Moving Services in Granite Bay, CA
Picking up and moving your entire home from one property to another can be a challenging task. Thankfully, when you have the services of Auburn Moving & Storage on your side, it becomes much easier to complete successfully. We have a great record for finishing residential moves to our customers' satisfaction, and our A+ rating with the Better Business Bureau serves as a testament to that fact.
We take great care of our clients' belongings, never mixing them with those of other customers and always delivering them in the exact condition we received them in. You never have to worry about the condition of your belongings with us—whether moving across state lines or just across the interstate 80 to Roseville, you can be sure you're getting world-class service from us.
Commercial Moving Services in Granite Bay, CA
Businesses move for a variety of reasons. For instance, you could be expanding your base of operations to include Sacramento County, or you could be downsizing from a different office in order to compensate for setbacks. Whatever your motives are, your business interests are best served by hiring us as your professional commercial movers in Granite Bay, CA.
When it comes to business moves, every hour you spend in the moving process is an hour of productivity lost. Downtime is too expensive for you to suffer through any more of it than strictly necessary, and hiring our moving services is the best way to minimize the time you spend moving. Keep your clients and business partners happy by hiring us for you move so you can get up and running as quickly as possible.
Make Us Your Preferred Local Movers in Granite Bay, CA
Auburn Moving & Storage specializes in providing exemplary service for local moves in and around Folsom Lake. Whether you're coming from Sacramento and want to move to a calm, tranquil suburban lakeside environment or you wish to move from Granite Bay into the heart of the city, you can trust us to get that move done quickly and affordably.
Unlike other moving companies in Sacramento County, we take great care to minimize unnecessary charges while we work. Our movers are trained to cooperate with increased efficiency so that we spend less time waiting for packages to arrive, less time driving trucks from place to place and less time charging you for the service in its entirety.
Choose Us For Long Distance Moves in Granite Bay, CA
If you're coming from out of state or even outside the country and wish to move to Granite Bay, CA, we can help you make that transition smoothly. We are authorized interstate agents of Bekins Worldwide Movers, and can coordinate with agents in your area to provide services of a standardized quality so that you can rest assured your move will be a successful one.
One of the keys to a successful long distance move is organization. We are experts in inventory and resource management, giving us the edge we need to provide affordable world-class service when transporting people's belongings on the long haul.
Senior Moving Services in Granite Bay, CA
Auburn Moving & Storage has unrivaled expertise when it comes to moving seniors in Granite Bay, CA. Folsom Lake is an attractive area for seniors of all kinds, including those keeping family homes and those moving into retirement communities. In both cases, we make sure to treat each delicate heirloom with the utmost care during the moving process.
Our capable and intelligent moving specialists make senior moves simple. We are qualified to take care of all packing, loading and transporting duties so that our senior clients need not concern themselves with anything but adjusting to the upcoming move as smoothly as possible.
Granite Bay Specialty Moving Services
Auburn Moving & Storage offers dependable services for moving large and awkward items. We are qualified to move pianos, hot tubs, safes and antiques that other moving companies may not be able to guarantee safe transport for. Our specialists are highly trained in the secure packing of specialty items.
If you own any large, delicate or heavy items that you believe qualify as specialty items, give us a call and ask for a quote on your move. We can walk you through the process of moving these items and give you an estimate on the cost of doing so.
Granite Bay Storage Services
As experts in local and long-distance moves in Granite Bay, CA, we offer our clients access to reliable and secure storage services. Our storage services come combined with our packing, transporting and shipping expertise, making them highly convenient for any situation in which you need to have access to your belongings at any time.
We offer storage units for rent in Granite Bay, CA and take care of moving our clients' possessions into the units on their behalf. This makes the process a perfect, simple solution for anyone—just call us when you want your items back and we'll ship them anywhere in the world for you. Whether you are downsizing your property and run out of space or just need us to hold on to some things for a while, you can trust us for highly professional storage service.
Packing Services in Granite Bay, CA
As your preferred full-service moving company in Granite Bay, CA, we offer quick and efficient packing solutions to clients looking to move in or around the area. Professional packing is safer, more effective and faster than trying to do it yourself, and you can benefit from hours of saved time by leaving the job to us.
We have all of the most important tools and supplies for professional packing, including crating tools and modern packing foam materials that ensure 100% protection for even your most delicate belongings. Trust us with your property and you can be sure it'll arrive in perfect shape.
Choose Auburn Moving & Storage For Your Next Move
Call one of our moving specialists at (916) 786-8683 to get a quote on your next move. We can transport your belongings anywhere from within Sacramento County to another state or even another country—all you need to do is let us know what you're taking and where you're going.
You can verify our record as a world-class moving company:
We are authorized agents of Bekins Worldwide Movers.
We are accredited by the Better Business Bureau, with an A+ rating.
Our company enjoys membership in both the American Moving & Storage Association and the California Moving & Storage Association.
The Auburn Chamber of Commerce has granted us accreditation.
We earned the 2014 Super Service Award from Angies List.
Contact us today and ask to speak with one of our friendly, knowledgeable specialists about your move to get an estimate. Moving to Granite Bay, CA has never been easier, so contact us today and let us take care of the hard work for you.
Error connecting, check your Review Stream settings