Home to more than 500,000 residents, Sacramento is by far one of the more popular cities in California. The city is packed with things to do, and, thanks to numbered and lettered streets, it's relatively easy getting around Sacramento. It is one of the most affordable cities to raise a family, start a business, go to school, and so much more. Positioned well between San Francisco and Lake Tahoe, Sacramento is a prime location to get a taste of the fun city life, quiet suburbs, and breathtaking outdoors.
The city's Mediterranean weather makes for great temperatures all year long. While you may encounter an occasional heat wave in the summer, the mild temperatures and the sunshine are worthwhile. Anyone who has previously visited Sacramento knows there's a lot to do. The area is home to more than 30 theaters, museums, and other attractions. Among these are the California Musical Theater, Sacramento Opera, Sacramento Theatre Company, and the Sacramento Ballet.
With with tons of activities, great business opportunities, top-rated schools, and an NBA franchise (the Sacramento Kings), Sacramento is the place to be. Yet, how do you get around? As a moving company that has been serving the Greater Sacramento area for years, Auburn Moving and Storage knows a thing or two about getting around Sacramento by car, bus, train, bike, or on foot. Here's some need-to-know information:
What's it Like for Car Owners?
Most of the population relies on their own transportation to get around Sacramento. Although there is a public transportation system and other methods for getting around the city, many who live in the suburbs find it inconvenient and, therefore, hop in their own rides to get around the city. Here's what you can expect:
Lots of traffic – Did you know that Sacramento ranks among the top cities with the most congested traffic? If you're going to drive your car for convenience, be prepared to sit often. Some of the most congested highways in the city include Business 80, with Interstate 5 and Highway 99 following. Commute times often peak during rush hour, weekends, and evenings. If you want to get a feel for the best times of day to head out on the road, you can get current traffic information in real time. Just dial 511 from your phone or visit http://www.sacregion511.org/.
Longer Commutes – Because of the heavy traffic in Sacramento you can expect longer commute times. The average commute in the morning would be about 26 minutes. Commute times can vary throughout the city depending on where you live, ranging from 11 minutes for the suburbs and 46 minutes for heavily populated or high-traffic areas. Here is where you can find more specific information on commute times in your Sacramento neighborhood.
What About Public Transportation?
There are those who don't own a car or simply prefer the eco-friendly, cost-effective option of public transportation. For you, Auburn Moving & Storage has compiled a list of transportation options and their costs:
Sacramento Regional Transit – The Sacramento Regional Transit offers bus and light rail routes throughout the city of Sacramento.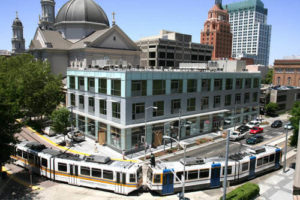 Travel by Bus – Those looking to travel by bus will utilize the Sacramento Regional Transit system. There are more than 250 buses serving the city, making more than 3,500 stops throughout. Approximately 57,000 people commute on the buses daily making connections to light rail. Passengers can purchase daily tickets or monthly passes, with fares ranging from $2.75 for a single pass and $110 for a monthly pass. There are discounts for seniors, students, passengers with disabilities, and children under the age of 5.
Light Rail – The city of Sacramento has approximately 38.6 miles of rail serving its residents. The light rail system is designed to run 365 days a year. The fare for light rail is essentially the same as riding the bus. To plan your trip or see if there's a bus/train on a certain route, visit the Sacramento Transit Authority website.
Other Options for Getting Around Sacramento
If you don't want to drive and to take public transportation, there are other ways to get around Sacramento. These options may end up costing more than driving your own car or using public transit. However, they can be convenient for when you need to go somewhere and don't want to wait on a schedule.
Grab a Cab
Cabs are still fairly popular in major cities like Sacramento. You probably won't be able to walk outside of your house to hail a cab. However, there are plenty of cab companies in the area that would gladly pick you up. Companies like Yellow Cab in Sacramento have incorporated technology like mobile apps that allow you to catch a cab with the press of a few buttons. You can choose the time you need to be picked up and where you need to be dropped off. You can even set how many passengers will be with you and determine which car you get picked up in.
Ridesharing
Everyone is familiar with the new wave of ridesharing companies like Uber and Lyft available to commuters. Customers create an account that allows them to request a ride and make a payment all at once. Often regarded as a bit more affordable than cabs, this option is great for commuters heading into heavily populated areas.
Ride Your Bike
The city of Sacramento has gone to great lengths to improve the region and make it a safer, cleaner, and healthier environment to live in. Biking in Sacramento is encouraged and promoted.  There are a lot of safe bike trails complete with bike lanes for bikers to travel safely throughout the city. You can learn more about biking in Sacramento by visiting Sacbike.org.
Walk
Walking is also an option for getting around Sacramento, but may not be ideal for certain neighborhoods. Depending on where you live and how accessible your potential destination is (i.e. work, school, shopping, etc.), you could find walking to be quite tedious. However, there are certain Sacramento neighborhoods that are great for walking.
Tips for Non-Drivers
If you don't own a car or prefer not to drive, you'll want to know certain things about living in and getting around Sacramento. Here are a few tips:
Places to live – Try living in neighborhoods that are convenient for non-drivers. These are essentially neighborhoods that have access to public transportation or have attractions close by. These pedestrian-friendly neighborhoods might include downtown, Poverty Ridge, or Mansion Flats.
Carpooling – If you're a Sacramento resident and looking for a way to get to and from work or school, consider carpooling. You can find a carpooling partner by signing up for the Sacramento Region Commuter Club. Their ride-matching tool allows you to find commuters in the area that are traveling to the same destinations as you.
Have Your Groceries and Essentials Delivered – You may have the convenience of a car or use Sacramento's public transportation system. But you can save yourself the commute by having your groceries and other essentials delivered to your home. Major grocery store chains make it easy for customers to create an online account and avail of same-day delivery. Other options would include mail ordering your prescriptions, clothes, and other personal items.
As the capital of California, Sacramento is an ever-growing, popular place to live. Whether you're moving to Sacramento for new employment, to be closer to family, or just to experience something new, Auburn Moving & Storage, a moving company near you, can help. We go further than giving you tips for getting around Sacramento. We'll put our years of experience in the moving industry to work, ensuring that you get to Sacramento with ease. Give us a call today at (916) 786-8683 for a free moving quote.